Are you hosting a 21+ Halloween Party this year? Start your party off right by having the best spooktacular drinks for your guest to enjoy throughout the night on All Hallows Eve.
Hocus Pocus Jell-O Shots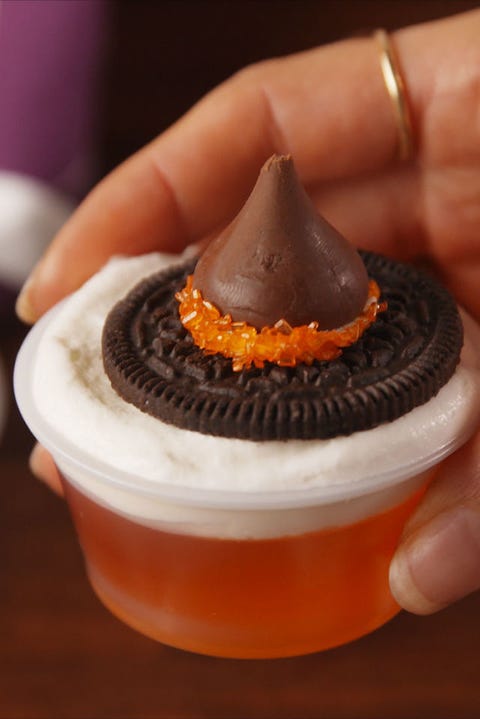 INGREDIENTS
1 package orange Jell-O
1 package purple Jell-O
1 package green Jell-O
3 c. boiling water, divided
3 c. vodka, divided
1 c. cool whip
15 Oreos, cream removed
30 chocolate kisses
Orange, green, and purple sanding sugar
Instructions:
In three separate bowls, add each Jell-o packet. Then add boiling water and vodka in each bowl and whisk until mixture is fully dissolved.
Pour into plastic cups and place in the refrigerator, 4 hours.
Witch's Hats – remove all cream from Oreo cookies and place smooth side down. Unwrap a Hershey Kiss and dip in cool whip, and then place it into the colored sugar.
Place Kiss in the center of the cookie.
Pull Jell-O cups out of the fridge, top with cool whip and a witch hat on top.
CANDY CORN JELLO SHOTS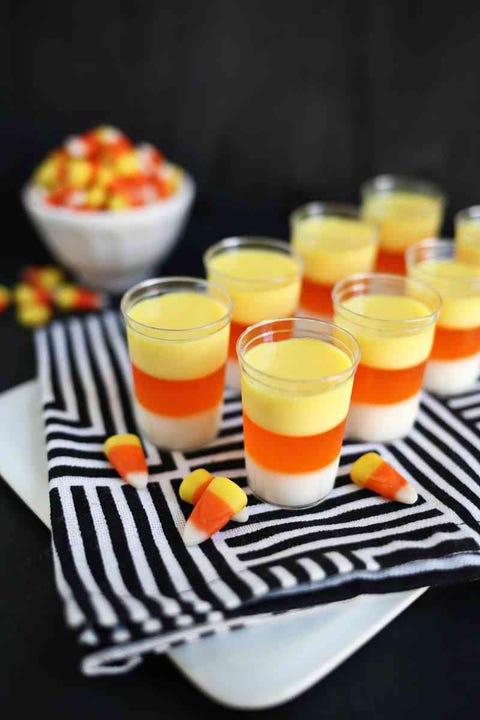 INGREDIENTS
1 small box orange-flavored Jell-O 3 oz
3 envelopes Knox unflavored gelatin
7 oz. sweetened condensed milk 1/2 of a 14 oz. can
2 cups water
1 cup vanilla or cake vodka add more if you like strong shots
yellow food coloring
tall shot glasses
Instructions:
This will make your first and last layer, save half of this mixture for the end. Pour 1 cup water and 2 packets of the unflavored gelatin into the water. Stir occasionally until all the gelatin has dissolved. Remove from the heat and add 1/2 your can of condensed milk to the mixture. Stir until the ingredients combine. Add 2/3 cup vanilla vodka. Cover and set aside half of your milk mixture.
Distribute the first half of your mixture throughout your shots cups, fill 1/3 way full, no more. Refrigerate for 40 minutes.
Pour another 1 cup of water into your saucepan and add 1 packet of gelatin to make your middle layer. Stir until the gelatin dissolves and stir in a box of orange Jell-O until dissolved. Add 1/3 cup vanilla vodka. Pour orange layer on top of white layer and refrigerate another 40 mins.
Take the second half of your milk mixture that you set aside in the first step and add in yellow food coloring (if mixture has started to harden, microwave until the lumps dissolved). Pour your yellow layer on top of the orange and put it back into the fridge for 40 mins.
Boozy Screamsicle Shakes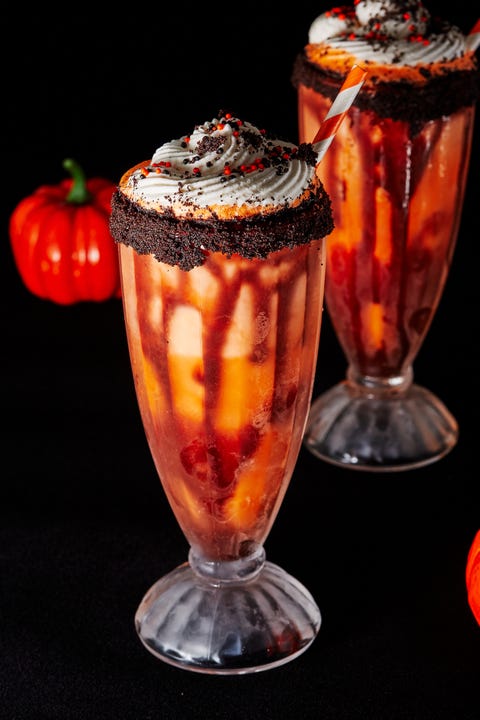 INGREDIENTS
Chocolate sauce, for garnish
6 Oreos, finely crushed
1 qt. orange sherbet
3/4 c. milk
8 oz. vanilla vodka
Whipped cream, for garnish
Orange & black sprinkles, for garnish
Instructions:
Add ingredients into blender cup in order listed.
Cap and blend until smooth.
Dip the rim of glass in chocolate sauce then roll in crushed Oreos.
Drizzle chocolate sauce inside the glass.
Pour mixture into serving glass, add whip cream and sprinkles and serve.
Jekyll & Gin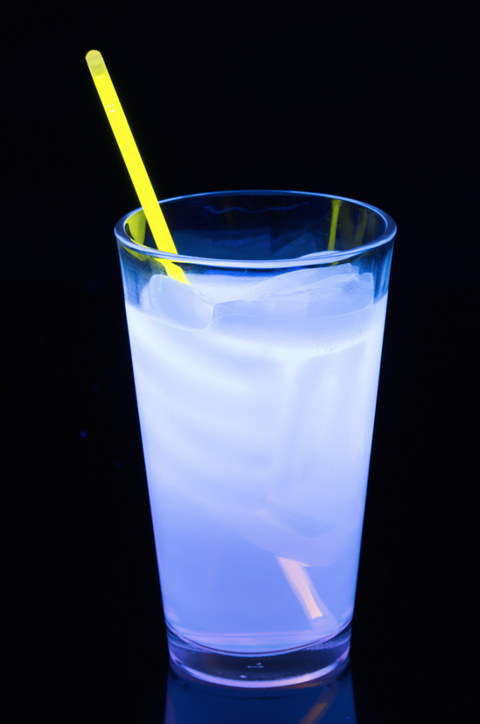 INGREDIENTS
3 oz. Gin
1/2 oz. lemon juice
1 tsp. grenadine
1 handful ice
tonic water
*this drink glows under blacklight*
Instructions:
Mix gin, lemon juice and grenadine in a cocktail shaker.
Pour into a glass filled with ice.
Top with tonic water. Garnish with a glow stick.
The Witch's Heart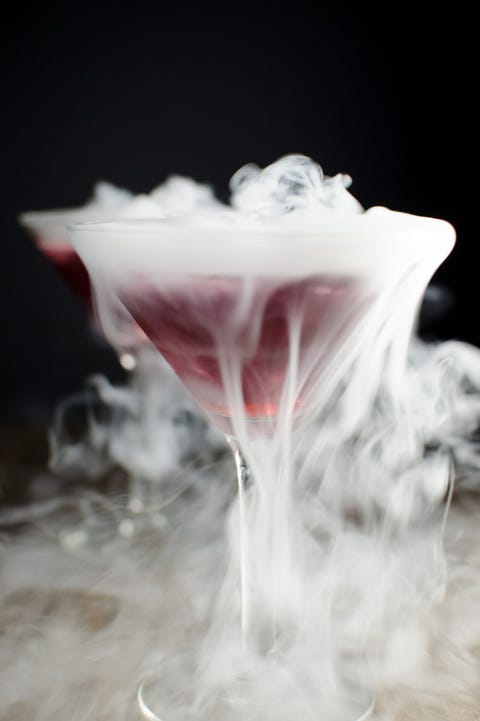 Ingredients
Instructions:
Add 1 tsp of powdered dry ice to the bottom of the glass. 
Place apple brandy and purple shimmery liqueur in a shaker. Add 1 ice cube and shake until chilled.
Strain mixture into martini glass. Top up with purple shimmery liqueur.
Pour 1 tsp of grenadine syrup, an inch away from the surface of the drink – grenadine will sink to the bottom, creating aka "bleeding" effect. 
Then add 1/2 tsp powdered dry ice on top. Serve with a stirrer to create shimmery, smoky effect.